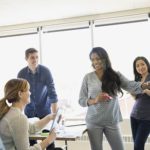 HERO Health and Well-being Best Practices Scorecard in Collaboration with Mercer© (HERO Scorecard)
The HERO Scorecard is designed to help organizations learn about best practices for promoting workplace health and well-being, and to discover opportunities to improve and measure progress over time.
Developed in consultation with leading authorities on population health and well-being, this industry leading tool provides you with an instant assessment of how your program stacks up to others in the national Scorecard database.
Take the HERO Scorecard
Best Practices and Tools
Not ready to jump in?  Here are some tips, practical advice, and helpful tools for getting the most out of the Scorecard.
Click on any circle for more detail in that step.