Committee involvement is an excellent benefit to your organization since you are at the forefront on key topics, get recognition in published reports, and get insider ideas from the best in the business. It is also a great way to build deeper relationships with peers in the industry. I encourage every HERO member to prioritize committee involvement, to benefit you, your organization, and the broader industry. – HERO Committee volunteer 
HERO is a member-driven coalition of employers, providers, consultants, academic institutions, and associations who share a belief that Workplace Health and Well-Being (HWB) is a scientifically sound, evidence-based approach to achieving health improvements for their employees.
Further, through the creation and dissemination of evidence-based HWB research, education, and best practices, HERO actively and continually provides leadership critical to advancing the well-being and performance of the nation's workforce. Much of the good work that HERO does is achieved through the efforts of its volunteer committees. Many of the members of the Think Tank and others in their organizations are involved in committee work. Some members are participating in more than one committee. Three types of HERO committees are active today, HERO Standing Committees, HERO Study Committees, and HERO Ad Hoc Committees.
Attention Student Members! Are you interested in serving as a student representative on a HERO Study Committee? Volunteering to serve is a great way to network with professionals in our field, contribute to HERO research, and share your unique perspective. To learn more, please email Emily Wolfe and include your resume, which Study Committee you'd like to join, and a brief explanation of your interest.
HERO Standing Committees: In co-op fashion, volunteer members provide direction and support to HERO operations via standing committees for Education, Leadership and Research. Our Standing Committees include:
Download PDF
The Education Committee is a group of Think Tank members who have interests and expertise in workplace health and well-being (HWB) education, communication and shared learning. Over the past few years, several factors have converged, which require renewed efforts in the areas of both member and public education. The number of HERO projects and interests has increased significantly, requiring enhanced internal communication with Think Tank Members. At the same time, systems-level changes, including policy efforts that emphasize wellness, increased public awareness of workplace health promotion and corresponding growth in the industry, provide many opportunities for HERO to position itself in an expert role and demonstrate value to employers and the general public. Additionally, new communication technologies have evolved that can facilitate the dissemination of high-level information, enhancing HERO's already-successful education efforts and extending the shared learning to provide even greater value to both internal and external stakeholders.
Download PDF
The Leadership Committee is comprised of Think Tank members who have special interests and skills in analyzing future workplace health and well-being (HWB) needs and opportunities and suggesting projects that will keep HERO on the cutting edge of the workplace HWB world. This Committee will have a major influence on the future of HERO and the success we will have.
Download PDF
The HERO Research Committee sets the HERO Research Agenda and provides guidance and expertise in making HERO a respected contributor and major player in the creation, publication, and dissemination of unbiased and meaningful workplace health and well-being research and best practices.
HERO Study Committees: Based on member interest surveys, study committees discuss, analyze and research topics to produce reports, presentations and, often, peer reviewed journal articles. With HERO members as authors, they are focused on providing understanding and guidance to employers. Our active Study Committees include:
Charter
The COVID-19 pandemic has affected everyone, but the pandemic has hit America's most prohibited populations the hardest. These populations have been exposed to harm and/or harmful circumstances, and require public health responses and public health policy- federal and state legislation, federal and state program administration, and local ordinances- to work in synergy to make a change.
According to the COVID Racial Data Tracker, this pandemic has systematically infected Black, Latinx, Indigenous, and immigrant households.  These groups were already facing discrimination and marginalization due to systems that have limited access to educational, economic, and job opportunities, affordable housing, quality healthcare services, and transportation to name a few. These social determinants of health are entwined with structural racism in education, employment, housing, and healthcare. To achieve healthy equity, employers must address systemic barriers employees face such as limited access to resources, inequitable policies and procedures, and non-livable wages. Establishing health equity requires systemic change. As such, the Healthy Workplaces, Healthy Communities committee is steadfast in addressing not only the employer's role in advancing health equity and social determinants of health, but also the policies and procedures that are in place within employee workforces that support improved health outcomes.
Charter
The Workplace Mental Health and Well-Being Study Committee aims to build on our previous work exploring ways employers are developing and measuring the success of workplace mental health and well-being (MHWB) strategies in the wake of the dual pandemics of racial injustice and COVID-19. Over the past decade, more and more workplaces have recognized the importance of addressing employee mental health and well-being and have expanded benefits and programs to meet the need. As the landscape of workplace behavioral health strategy and technology evolves, employers continue to face challenges regarding outcomes measurement. In addition, utilization remains suboptimal due to individual and system-level barriers, including cultural, geographical, and financial challenges known to impact U.S. adults by race/ethnicity differentially. The committee aims to identify employer bright spots, explore workplace mental well-being metrics, and also seeks to understand new solutions to workplace mental health and well-being informed by diversity, equity, and inclusion (DEI) and the factors associated with their success across diverse workplace sizes and settings.
Charter
Significant evidence exists on the impact of employee health and well-being (HWB) on healthcare costs and workforce productivity, and the ability for well-designed initiatives, programs, and culture of health to improve HWB. At the same time, evidence also exists on the organizational value of positive employee experience (EEx) in meeting other HR and business objectives, and this is a growing area of focus for employers. However, HWB and EEx are often "owned" by different functions within an organization, and the bi-directional influences between HWB and EEx aren't well established. This limits collaboration and integration between the HWB function and broader EEx functions or initiatives. Improving this would help to optimize strategies to improve both HWB and EEx. The EEx Committee is focused on understanding how employers define and measure EEx, while also seeking to advance improved collaboration across organizational functions to positively impact HWB, EEx, and organizational success.
HERO Ad Hoc Committees: Based on current issues and needs, HERO's ad hoc committees convene and respond accordingly. Our current Ad Hoc Committees include:
This committee builds on the consensus work of HERO, American College of Occupational and Environmental Medicine, American Heart Association, Population Health Alliance, and other organizations concerned about equity and effectiveness in employee wellness. You can find the 2015 consensus response white paper and published paper by following the hyperlinks.
Employee Experience Video Series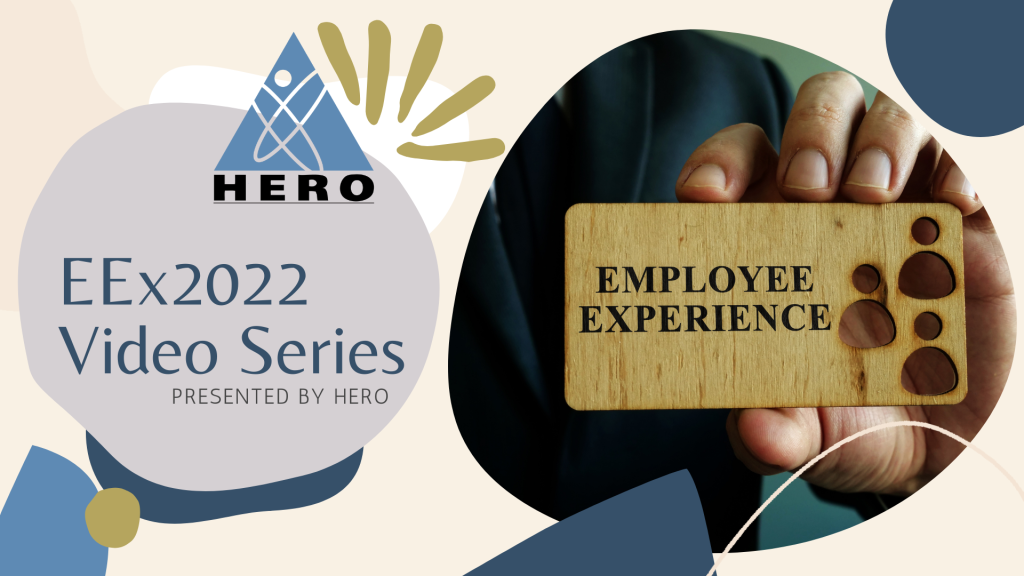 The Employee Experience Committee has started a new video interview series, with organizations that are bright spot employers.
FREE and OPEN for public access for 1 week only. Click the image to watch our Pilot interview for our new Employee Experience Video Series.
If you have questions or would like more information on how your organization could participate in HERO's Employee Experience Video Series, please reach out to Emily Wolfe, Director of Learning Experience via email at emily.wolfe@hero-health.org.
Committee Publications
Category
Loading .....
Access the MEMBER Resource Center