Become a HERO Student Member and begin gaining the necessary resources to advance your health and well-being career!
Who is Eligible?
Students currently enrolled in an undergraduate program taking 12+ credits or graduate program taking 6+ credits. A University/College email address will need to be provided, along with advisor contact information or copy of unofficial transcripts.
Price
$25/year for students who attend a University that is a member of HERO
$50/year for students who attend a University that is not a member of HERO
Access to the HERO Resource Center, an online library of presentations, white papers and research presented at HERO Forums and Think Tank meetings, as well as in peer-reviewed articles
Subscription to HERO monthly briefs
Networking opportunities with the nation's health and well-being experts
Student focused HERO webinars, led by industry professionals
Opportunity to apply for the student representative position on each HERO study committee
Eligible for Student research award – winners will be invited to present their research at a HERO-sponsored event. Registration free of charge! Research award winners will also be invited to submit their research to be published in the American Journal of Health Promotion.
Receive a preview of all jobs posted to the HERO job board before publicly posted.
Résumé builder!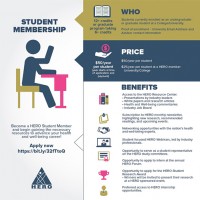 We hope this membership will lead to a mutually beneficial relationship, where students gain resources to help them start/advance their careers and HERO members meet potential employees who will help their organization advance their HWB practices.