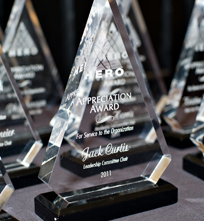 The HERO Workplace Health and Well-Being (HWB) Awards honor dedication and commitment to the field, and acknowledge outstanding achievements in the practice of HWB in the areas of Leadership and Research. Honorees are asked to share their experiences in HWB with their peers at the HERO Forum during the awards ceremony. The 2017 HERO Forum on Engagement & the Emerging Workforce will be held September 12-14, 2017, at the Arizona Grand Resort & Spa, Phoenix, AZ.
Each year, HERO pays tribute to individuals in the field of health and well-being with our HERO HWB Awards. The HERO HWB Awards honor leaders in five categories.  Click on each Award to see the complete list of HERO Hall of Famers.
Learn more about the new 2017 HERO Awards Winners

Bill Whitmer Leadership Award
 As the co-founder and former CEO of HERO, Bill (and HERO) issued a loud Wake UP Call for America that our nation was in the midst of a perfect storm of poor health, an aging population and rising health care costs. Bill spent years bringing together leaders in the HWB industry: employers, researchers, providers, payors and consultants and insisting that together, we represented a powerful force with the ability to positively impact the health of our nation. Today, HERO's membership and its voice and power as an agent for change have more than doubled. The Bill Whitmer Leadership Award is shaped by and honors the decades of hard work and vision in the field of health and well-being (HWB) by Bill Whitmer.
---
Mark Dundon Research Award
 Mark Dundon contributed to the advancement of health and well-being (HWB) for the decades he spent working in the healthcare industry. Best known within the ranks of the HERO membership as the co-founder and former Chairman of the Board of HERO, Mark's contributions to the field of  HWB research and the healthcare field include running a three state health care system in Kentucky, and providing the seed money for ground-breaking research. Each year at the HERO Forum, The Mark Dundon Research Award is presented to the professional who most closely embodies his outstanding work in the area of HWB research. 
---
Jerry Noyce Executive Health Champion Award
 As HERO advances its journey as a premier HWB resource organization, it is important to recognize the corporate leaders who make the meaningful execution of HWB possible.  This award is presented annually to a person of senior leadership status (CEO, CFO, VP) who has made an outstanding contribution towards the advancement of HWB within their company. We wish to recognize individuals who have been largely responsible for the success of their company program through professional dedication and a personal commitment to creating a culture of health. 
---
Heart of HERO Award
HERO recognizes health and wellness practitioners that have directly impacted the health of their organization and the associated outcomes. This award will be presented to a person directly involved in the day to day operations of health and well-being  (Wellness Directors, Health Managers, Human Resource) who has made an outstanding contribution towards the advancement of HWB within their company.
---
Healthy HERO Award
HERO is building on a long-standing awards tradition by establishing a national awards program to recognize individuals who are actively engaged in their own well-being through participation in a company-sponsored health and well-being program, have achieved and maintained their health goals for at least two years and who may also be providing leadership as a volunteer wellness champion for their organization. The Healthy HERO Award Program enables sponsoring organizations to highlight the successes of individuals who participate in their health and well-being program.
---