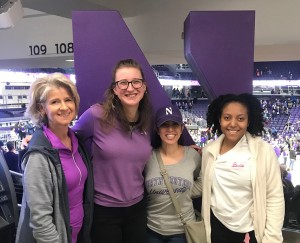 Evelyn Cordero is a native Chicagoan and a well-being specialist in the Office of Human Resources at Northwestern University. She joined Northwestern in 2014 as a research assistant in the Department of Medical Social Sciences, Feinberg School of Medicine and, shortly after, received her MS in health communication from Northwestern. She holds a BA in community health & wellness from Northeastern Illinois University and an AAS in dietetics from Harper College. A favored go-to wellness practice is deep breathing.
What is a key focus for your health and well-being initiatives in the coming months?
Focusing on the whole person holistically. Last month we reorganized our Wellness, Work/Life and Employee Recognition departments into one office, now called the Office of Well-being. Our intent is to focus on the whole person holistically in order to help them thrive. As a result, we expanded our domains of well-being from physical, financial and emotional to include spiritual, vocational, environmental, social and intellectual.
We also will be focusing on mental health programming. Recently, a small group of staff became Adult Mental Health First Aid instructors. Mental Health First Aid is an evidence-based training designed to provide participants with the skills to help someone who may be developing a mental health or substance use problem or is experiencing a crisis. We will be rolling out pilot trainings this spring and summer and formally launching in the fall.
What 2-3 metrics do you follow most closely that best capture the value proposition of your efforts in your organization? 
Survey feedback, especially qualitative feedback, as it is direct and personalized and we may not receive this type of feedback otherwise. It helps use to improve programming in order to meet the needs of our employees.
EAP data, particularly short-term counseling utilization. Over the past year and half, we have increased our marketing and awareness efforts regarding this service. As we focus on mental health, we are looking in increase utilization and decrease stigma.
What's on your professional reading list that you'd recommend to fellow HERO members?
Dying for a Paycheck by Jeffery Pfeffer. Pfeffer introduced the concept of "human sustainability," the idea of preserving and improving the quality of human life, in the workplace. This was thought provoking as my office strives to increase human sustainability, but we didn't have a term for our efforts before learning about this. The book discusses health insurance, work-life conflict, work hours, job autonomy and provides solutions to advance workplace well-being. What I enjoy most is the data provided for each topic discussed.