Air date: January 20, 2022
Guest Panelists: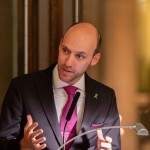 Dr. Antonis Kousoulis, Mental Health Foundation
Could it be that "fundamentals of life" are also fundamental to maintaining mental health? This webinar features findings from a Delphi research methodology that sought expert and public input into effective mental health messaging. In particular, study authors aimed to highlight those behaviors that were most actionable and highly likely to prevent mental illness. Published in September 2021 in the American Journal of Health Promotion, the study is already one of the most cited and downloaded studies of the year, and study findings been featured extensively in the popular press in America and abroad.
Our webinar guest, Dr. Antonis Kousoulis, is a Director at the Mental Health Foundation where he leads the public mental health research, programs, and policy functions in England and Wales. Dr. Kousoulis emphasizes that instead of buying into "miracle cures," people should use "preventative self-management actions" such as improving sleep habits, helping others, and being open to new experiences to prevent poor mental health. In this webinar, we will discuss how the study's findings can be used to encourage business and community leaders to "take action that empowers people to better look after their own mental health," including making the means to practice these behaviors available to all.
Dr. Antonis Kousoulis is leading the research, policy, and programs functions of the Mental Health Foundation, a UK-wide public mental health charity of over 70 years. He is a doctor with an academic background in public health and executive experience in academia, third sector (non-profit), and the government. He is a leading thinker in public mental health and has been made Fellow of the Royal Society of the Arts for his commitment to improving mental health & fostering a new generation of public health leaders, both in the UK and internationally.
This webinar is available to members only.