What's your Word for 2021?
As we wind down 2020, we reflect on all that the year has taught us about health equity and racial equality. 2020 has been a banner year for HERO research, with 22 articles published in peer-reviewed journals, 3 in industry trade journals, and 3 formal scientific research studies – a HERO record! HERO committees have been productive, too, releasing 4 reports and a number of case studies. We've also put Zoom to good use and collaborated with numerous (at least 18) other organizations on joint initiatives aligned with HERO's vision and goals. We pivoted from in-person meetings to virtual convenings, not something we necessarily wanted to do, but we are proud of what we were able to achieve regardless, with a record attendance of more than 700 at HEROForum20 and the Summits. Members Unmuted has become an offshoot of these convenings to extend member networking opportunities, and we look forward to continuing next year. As the year comes to a close, we're also exploring what it would take to support small and midsize business – the backbone of America – with the evidence base that has been applied so successfully in larger organizations.
In 2021, the HERO Board will complete its work on the organization's strategic plan for the next three to five years, and present it to HERO members at the Winter Think Tank. Our 2021 learning agenda seeks to dive deeper into areas that have gained greater focus this year, like allyship, mental well-being, and sustainability. And we'll launch V5 of the HERO Scorecard that integrates these employer priorities.
So, I'm closing out this year with a sense of accomplishment and gratitude to all those who are on this journey with us. And I'm welcoming 2021 with HOPE. As you consider a resolution for health and well-being for 2021, what word would you choose? Please share it with us.
Happy Holidays!
Karen and the HERO Team 
HEROForum20 Proceedings are published!
Download your copy for a recap of a month's worth of learnings from Forum20! Then, mark your calendars for next year; see below for our Forum21 Save the Date!
---
UPCOMING EVENTS
HERO Members Unmuted!
Wednesday, December 16, 2020, 3:00 PM CT
Time and time again, HERO members cite networking as one of the top benefits of membership. We are listening and excited to provide a space for connecting and sharing among colleagues during our monthly Members Unmuted. In the month of December, we will explore the role of gratitude in the employee experience. We hope to see all of you there to discuss the health and well-being benefits of giving thanks. Don't worry, if the group gets too big, we'll divide into smaller breakouts to keep the conversations manageable and the connections strong.
Watch your inbox or contact info@hero-health.org for more information.
2021 Winter Think Tank
HERO Members Save the Date!
Allyship and the Employee Experience
February 22-23, 2021
A Virtual HERO Think Tank and Do Tank
Allyship relates to the opportunity for an ingroup to show preferential support for an outgroup. This Think Tank examines the employee experience through the lens of an outgroup, people of color, and asks what our professional community needs to do differently to achieve health equity and a robust employee experience for outgroups. Our think tank aim is to get us on the same page concerning the magnitude of systemic racism and what sustains discriminatory practices. Our do tank aim is to transcend policy discussions and develop an action agenda that enables HERO Think Tank members to "be the change."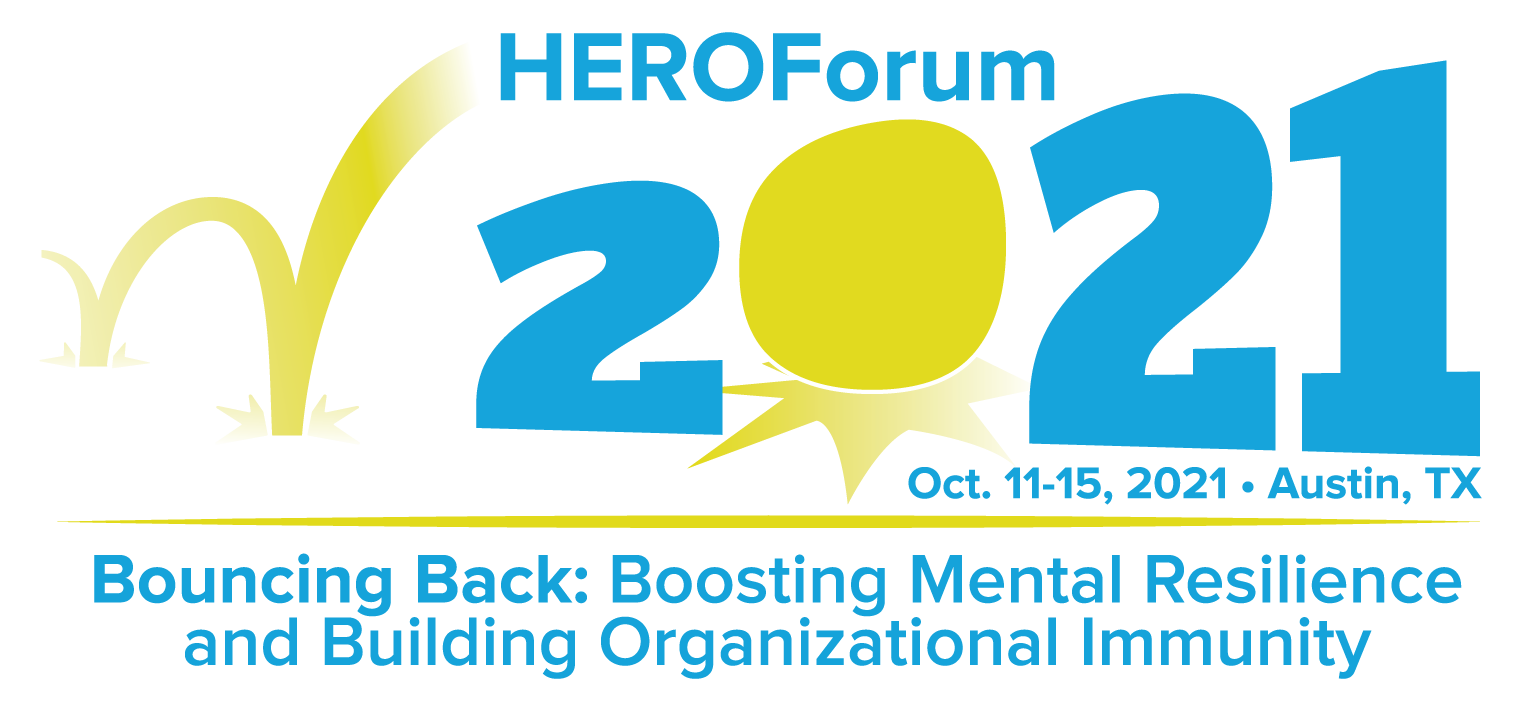 HERO welcomes presentation submissions from all organizational sectors that have innovative employee health and well-being initiatives to share and stories to tell, successes or setbacks, that help move our profession forward. Our conference attendees are primarily experienced human resources professionals and formally trained health promotion program providers. Accordingly, we favor presentations to go beyond "show and tell" about what programs and initiatives you are offering and, instead, go deeper into barriers you've encountered, novel strategies you're testing, and evaluation results that are shaping your future plans.
Six Presentation Tracks for HEROForum21:
Worksite Health Promotion 101. This learning track accommodates Forum21 participants who are new to the profession or who are not formally trained in health promotion. Presenters in this track are encouraged to teach about the theories behind their population health initiatives and mental health services and explain both the strengths and limitations of their approach. These 101 sessions should offer ample opportunities for participants to ask questions about what works and what doesn't work in population health management.
Worksite Health Promotion 401. Preeminent health promotion scholar Dr. Larry Green often says: "If we want more research-based practice we need more practice-based research." This track is intended for experienced researchers and practitioners aiming to meet Green's challenge. Top experts in population health management with technical, clinical, and research-based presentations are encouraged to submit in this track.
Braving the Second Wave. Presentations on boosting mental resilience, reimagining employee assistance programs, and sharing research or practice innovations designed to support post pandemic stress and anxiety. We also encourage presentations about improving how mental health disparities can be uncovered and addressed.
Dismantling Systemic Racism at the Workplace. We are eager for presentations on improvements and progress being made in diversity, equity, and inclusion offerings at workplaces. In particular we invite you to share your efforts at better integration between how you are addressing issues of racial equity and how you are designing your overall health and well-being strategy.
Pandemic Preparedness and Wellness. What have we learned from the coronavirus that will change how we organize health and well-being initiatives in the future? How are your EAP or health coaching or lifestyle education offerings being recalibrated to anticipate the next infectious disease outbreak?
Measures That Matter. What new data is informing your health and well-being strategic planning? What measures are more meaningful to your organization post pandemic? How are you recognizing and reconciling health disparities? Do you have new research results to share or program evaluation data to report that is helping you make improvements in your program offerings or employee benefits?
Click here to begin the abstract submission process.
HERO is a designated provider of continuing education contact hours (CECH) in health education by the National Commission for Health Education Credentialing, Inc. Provider ID# 101039
---
HERO RECOMMENDS
Resources and Readings
Leading Diverse Teams and Organizations
Paul Terry, HERO's Senior Fellow, recommends this complimentary course on organizational diversity and inclusion taught on Coursera by Lindred Greer from the University of Michigan.
#InclusionStartsWithI
Paul also recommends this video from Accenture on the importance of a positive, inclusive work environment. This is a great lead-up to our Winter Think Tank.
New Well-Being Assessment Provides Employers with Tool to Measure Broader Health and Well-Being Impact
As employers broaden their wellness initiatives to address more domains of health and well-being, HERO is often asked for guidance on how to broaden the measurement and evaluation of programs. Jessica Grossmeier, HERO's VP of Research, shares a link to the HERO blog featuring a new assessment tool by our friends at 100MLives, which previews metrics that we'll be featuring in our 2021 release of version 5 of the HERO Scorecard.
National Day of Racial Healing
Another entry from Paul Terry, this virtual event is on January 19, 2021. Find out how you can join in, along with host Baratunde Thurston, leading advocates, musicians, artists and others who are taking action to help heal our communities.
---
HERO WEBINARS
The Learning Series
Tiny Habits for Resilience
Thursday, February 11, 2021 at 12:00 pm CT  |  Registration
Linda Fogg-Phillips, Director of Tiny Habits Academy, and Tad Mitchell, Founder and CEO of Wellright, explain practical strategies for building resilience within yourself and within your organization. The approach builds on BJ Fogg's book Tiny Habits to help people build habits that increase resilience. Click here for more information.