We have a lot to share this month so here is an outline to guide you through these HERO Briefs (click on the title to go directly to that section):
Save the Dates!

Webinar with Common Ground Health: Wed, Nov 14, 2018 11:30 AM – 12:30 PM CST
Winter Think Tank: San Antonio, Texas | February 12-13, 2019
HEROForum19: Portland, Oregon | September 10-12, 2019

HERO Recommends: A new book by Dr. David Katz and a Dean's Symposia Presentation by Michael O'Donnell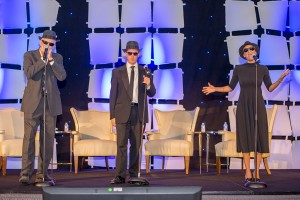 The Blues Siblings: Paul Terry, Stefan Gingerich, Marleece Barber
Denouement: What Follows HERO Forum18?
By Paul Terry
As much as the HERO team revels in all of the learning, networking and celebrating that we facilitate for you at our annual Forum, it is not quite the closing chapter for our year. As I said in my opening remarks to kick off Forum18, our learning events are designed to do nothing less than change the direction of our field. I likened our journey as professionals to a long through-hike I completed this year. How do we stay on the right path, and when should we forge new trails? There are countless ways to rise to our next challenges, but two that we focus on at Forum are to expose you to pioneers and visionaries alike. The denouement in our closing chapter for 2018 is about sharing our learnings from Forum18 more broadly and enlisting our many stakeholders in setting us up for a stimulating next journey in 2019. We are presently curating the best of Forum18 presentations and we look forward to presenting you with our Forum Proceedings next month.
Pioneers are those who have done the hard work of discovery, including hitting some dead ends, so that we can follow the surest path. In keeping with our Forum18 theme, "From the C-Suite to the Shop Floor: Well-being for all," our Proceedings will feature articles from presenters who shared compelling results from efforts to build inclusiveness and equity into their company initiatives and research methods. For example, our employer panelists offered inspiring examples from LabCorp, Lockheed Martin and DHL that demonstrated how engaging shop floor employees most often starts with leaders making time to gain an intimate understanding of the daily work of their lowest paid colleagues.
Visionaries are those who bear witness to the vagaries and risks of the path we're on and challenge us to consider an altogether different route, albeit one full of uncertainty and untold risks. As has been our tradition at Forum, we again hosted a research update panel and this year we asked the question: "When workplace health promotion programs work, and when they don't, what makes the difference?" As you will read in our Proceedings, we learned that a small dose, short-term intervention spread across thousands of employees significantly improved morale but didn't improve health at the population level. You'll also read about other organizations that have long abandoned an approach that focuses on mass screenings followed by elective educational classes. Instead, they are studying social determinants of health and are exploring new routes to health for all, that tailor interventions based on interests, focus on culture and policies and shift resources where they are needed most.
Check out HERO RECOMMENDS at the end of this newsletter for information on ordering session recordings from HEROForum18.
As much as we couldn't be prouder of this year's HERO volunteers and Forum faculty, the HERO team are through-hikers and we never rest in this journey. Read on in these Briefs for a description of our Forum19 theme: "Thriving Organizations: Achieving Well-being through Collaboration." We offer a preview of presentation tracks for Forum19 in Portland, Oregon on Sept. 10-12, 2019. Our "Call for Presenters" is only weeks away, so it's not too soon for you to be considering what partnerships you would like to feature as a presenter in Portland!
For those who attended Forum, as the Blues Brothers sang at our day one opening: "We're so glad you made it." Rumor has it the Blues Brothers may be back for an encore at Forum19. Talk about "gimme some lovin'," the HERO team loves to oblige and we hope to see you there. And, yes, besides our usual healthy activities and fare, we'll serve Voodoo Donuts, too!
HERO Leadership Awards for 2018
Celebrating the Best in the Nation who are Advancing Health and Well-being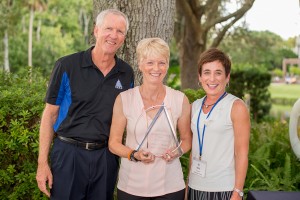 Paul Terry and Joni Troester with award winner Shelly Wolff
Excellence isn't a destination any of us should aspire to arrive at. Instead, excellence will always be a byproduct of constant change and an endless commitment to improvement. One of the more humbling and gratifying annual traditions at HERO is to honor leaders who have demonstrated a tireless devotion to improving our field and the health and well-being of others. HERO is indebted to our awards selection committees who assessed, discussed, debated and selected this year's honorees. Our thanks go to Jack Curtis, our Leadership Committee Chair and Philip Swayze, our Awards Committee Chair and all of our committee members who brought us such inspiring leaders to celebrate in 2018.
2018 Award Winners
Bill Whitmer Leadership Award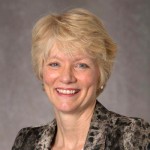 Shelly Wolff
Health and Workforce Effectiveness Leader
Willis Towers Watson


Mark Dundon Research Award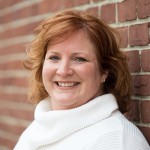 Dr. Kerry Evers
co-CEO and co-President
Pro-Change Behavior Systems, Inc.


Mark Dundon Research Award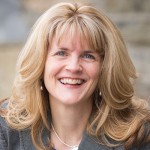 Dr. Sara Johnson
co-CEO and co-President
Pro-Change Behavior Systems, Inc.


Jerry Noyce Executive Health Champion Award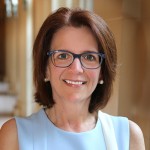 Elizabeth Bierbower
President Employer Group Segment
Humana


Heart of HERO Award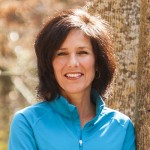 Sheri Snow
Wellness Manager
American Cast Iron Pipe Company


Healthy HERO Award sponsored by Alliant Employee Benefits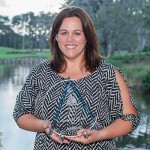 Amanda Potter
Social Media Manager
Midco


2018 Awards Selection Committee Members:
Philip Swayze, MS, CWPM; HUB International New England, Chair
Susan Bailey, MS; Marsh & McLennan Agency
Jack Curtis, MS; Corporate Health Partners
Greg Howe; Lincoln Industries
Bridget Neurer; AON Hewitt
LaVaughn Palma-Davis, MA: University of Michigan
Nico Pronk; HealthPartners
Paul Terry, PhD; HERO
Laurie Whitsel, PhD, FAHA; American Heart Association
Mark Poindexter; Shell Oil
Rebecca Kelly, PhD, RDN, FAND; Element Health and University of Alabama
Joni Troester; University of Iowa
Laura Linnan, ScD; University of North Carolina

UPCOMING EVENTS
Coming Soon! Watch for our Call for Presentations for HEROForum19.
HEROForum19

Thriving Organizations: Achieving Well-Being through Collaboration
Portland, Oregon | September 10-12, 2019
Our inalienable rights in America are life, liberty and the pursuit of happiness. How well has the workplace-based health and well-being movement in America helped us to achieve this inspired guarantee? HERO specializes in featuring exemplary companies and ground-breaking health promotion professionals who consider our shared mission to be nothing less than achieving well-being for all. Liberty and independence have been cast by some as best achieved when we are shielded from the intrusion of others. But others believe that well-being can only become accessible for all through collective efforts. And related to this, where past iterations of progress in worksite wellness were judged according to individual health improvement, our field is now well positioned to judge our effectiveness at enhancing organizational level well-being and even according to our impact on society.
From cooperation to collaboration…
HEROForum19 will feature partnerships that have defied traditional boundaries. As always, we will feature leaders, organizations and experts who believe that healthy cultures are prerequisites to health for individuals. But this year we will focus on those who profoundly embrace the need for collaboration across disciplines and sectors to affect change. We will feature collaborations in three domains:
Within organizations: Exemplary cases of inter-organizational collaborations between departments such as wellness, facilities management, leadership and organizational development, safety, strategic planning, quality improvement and others.
Between professional disciplines: Successful examples of collaborations between experts such as public health, economics, technology development, medicine, architecture, futurists, geographers, social scientists, community organizers and more.
Across sectors: Extraordinary partnerships between public/private sectors, for profit/non-profit organizations, governmental and non-governmental agencies and more.
Health and well-being professionals often work independently within their organizations, or departments, rather than collaborating with colleagues representing other functions, such as employee assistance, organizational development, leadership development, wellness, occupational health and safety and facilities management. Different experts have different responsibilities and accountabilities; departments have separate budgets; and teams have histories and traditions to uphold. But what happens at the organizational level when we all rally toward a common purpose rather than stall out over the usual competition for resources? As always, Forum19 intends to challenge our usual thinking. We will reframe this typical question: "How must we cope with our workplaces and society in order to reach our potential?" Instead we will ask, "how can we co-create workplaces and a society that enable us all to thrive?"
Forum19 Breakout Session Tracks
Integration and collaboration to advance well-being

Integrating services to improve behavioral health
Employer/Community collaborations that advance well-being
Connecting organizational development, leadership development and employee well-being

Psychologically healthy workplaces

Positive psychology, thriving organizations and individual behavior change
The psychologically safe organization

Skill building and motivation for behavior change

Innovations in coaching
New ideas and new uses for old ideas in health and well-being

Achieving health equity

Achieving equity in health and well-being
"Techquity": Using technology to reduce health disparities
Measures that matter in promoting health for all

Metrics and dashboards that connect health and well-being to business measures

Measures that matter from the C-Suite to the shop floor
Use of dashboards that reflect integration across functions or disciplines
From productivity to thriving…
Contemporary health promotion is variously about improving individual health, wellness, well-being, happiness and engagement. Thriving organizations are also driving advancements in culture, gratitude, companionate love and systemic approaches to psychological health and emotional safety. Thriving organizations get high scores from their employees on perceptions of organizational support. Some organizations are even bent on playing an active role in helping their colleagues live a more purposeful life. When HERO brings us together to reflect on how we are doing as a profession, it behooves us to consider how the trending use of all of these ideas reflect growing ambitions for our field along with what shifts in priorities are occurring in our field. Can we do it all? Forum19 answers that question by asking whether goals should be judged according to how much collaboration is needed to achieve them. Our hypothesis is, the grander our goals, the more inspired the guarantee, the more vital collaborations become. We look forward to testing this idea… together!
SAVE THE DATES!
HERO Winter Think Tank – Members Only!
Psychological Safety at Work
February 12-13, 2019 | San Antonio, Texas
Tuesday, February 12, 9:00 am – 4:30 pm; 6:30 pm Member's Annual Dinner
Wednesday, February 13, 9:00 – 11:30 am HERO Committees Progress and Planning
Register here.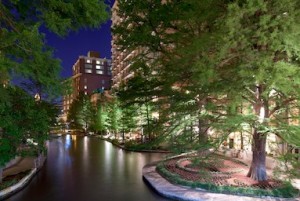 Watch for information on hotel and agenda coming soon.
UPCOMING WEBINARS
The HERO Learning Series
Improving Population Health and Well-Being in the Central Southern Tier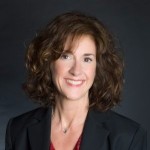 Guest Webinar with Melissa Wendland, Director of Strategic Initiatives with Common Ground Health
MEMBERS ONLY | November 14, 2018 | 11:30 am Central
The Central Southern Tier Health Alliance is a multi-stakeholder planning group that formed to address the complex issues affecting the health and well-being of residents in the Southern Tier of the Finger Lakes region (Steuben, Schuyler and Chemung counties). Building on lessons learned from previous health improvement efforts and with facilitation and analytic support from Common Ground Health, the Alliance utilized a systems dynamic approach to coalesce around a value proposition of improving overall health and well-being in the region.  Using dynamic modeling, the Alliance found that two top priorities for improving health and well-being are jobs and wealth, and pathways to success for children.
HERO RECOMMENDS
Resources and Readings
HEROForum18 Recordings are available now!
Click this link to purchase.
November 1, 2018 | 9:30 am – 12:00 pm | University of Massachusetts Amherst
The UMass Amherst School of Public Health and Health Sciences presents this Dean's Symposia Series event with keynote speaker Michael O'Donnell, CEO of the Art & Science of Health Promotion Institute, and featured speakers Mari Ryan, CEO and founder of AdvancingWellness, David Buchanan, UMass Amherst Professor Emeritus of Community Health Education, and Claire Santarelli, Director of the Office of Health Promotion & Partnerships in the Division of Prevention & Wellness at the Massachusetts Department of Public Health. A panel discussion will follow the presentations. Click here for more information.
Check out a recap/commentary of HEROForum18 on Mercer's blog.
The Truth about Food
New book by Dr. David L. Katz. Proceeds benefit the critical mission of the True Health Initiative. Available e-book for $9.99 at Amazon.
Dr. David L. Katz helps insulate us from the next food fad by making sure we are armed with the truth, and nothing but the truth. Facts do matter, and The Truth About Food is full of them. The Truth about Food should have a home in everyone's kitchen."
—Sanjay Gupta MD
Try a recipe from the book: Apple Almond Cobbler
Be sure to check out our Voices from HEROForum18 on HERO's Youtube Channel.
MEMBER PROFILE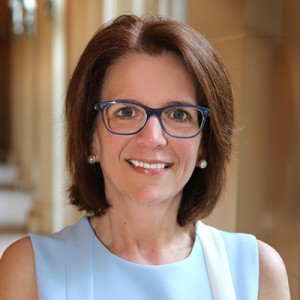 Elizabeth Bierbower
Throughout 2018, each edition of HERO Briefs will include a member profile with answers to three questions we believe will interest HERO members.
Our October member profile features Elizabeth (Beth) Bierbower, Segment President for Humana. She is responsible for driving the growth and profitability of Humana's employer group products including Medical, Specialty and Wellness offerings.
Q. What simple tip can you share that employers of any size can implement to enhance workplace well-being? 
A. Create small opportunities for employees to step away from their normal routine and at the same time enhance wellbeing. For example, host a walking one on one meeting, create a small relaxation room where someone can spend a few minutes to relieve stress or take a few minutes and hang at the water cooler. Helping employees take a step back allows them to bring a refreshed perspective back to their work.
Q. What's on your professional reading list that you'd recommend to fellow HERO members? 
A. A few months back I finished Competing Against Luck by Clay Christensen. This book describes the need for organizations to really understand why a consumer is hiring a product or service and what progress the consumer is trying to make in their lives. Looking at consumer progress rather than simply needs or wants is a unique perspective that I believe gets at the heart of the problem the consumer wants solved. Remember the famous example: a consumer doesn't want a quarter-inch drill, she wants a quarter-inch hole.
Q. Thinking about the future, where do you think the next major focus will or should be in the field of workplace health and well-being?
A. I believe we need to look at health and well-being relative to a multigenerational workplace. Approximately 9,000 people a day are aging into Medicare, yet many of these individuals want to be part of the nation's work economy. These individuals will be starting businesses, advising start-ups or simply staying with their current employer well past the age of 65. These individuals' well-being needs are different than those of a younger generation as they want to be relevant and have a purpose which, for these individuals, is often tied to work.  Employers should begin to think about how they will address the well-being needs of the Boomers.