Air date: June 30, 2021
Guest Panelists: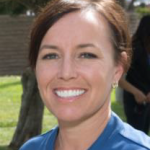 Callie Lovato, MA, MES
This session will help you identify wellness program goals and align them to your company's 3- to 5-year plans, point out strategic collaborations to think about, and guide you in the planning & implementation it takes (even during uncertain times!) to succeed at delivering best in class health programs your employees want and need.
Callie Lovato, MA, MES, is the coordinator of Sandia Labs' Preventive Health Program as well as the Sandia Employee Recreation Program. As a certified medical exercise specialist, she works with patients in Sandia Labs' Health Management Clinic, Preventive Health, and Physical Therapy departments. She is experienced in special populations training and corrective muscle work. Callie has worked in the fitness industry since 1998, leaving New Mexico Sports & Wellness as a Master Trainer and Fitness Manager in 2002 to come to Sandia. Callie holds a master's degree in health science from the University of Alabama.
This webinar is available to members only.