Air date: October 30, 2019
Guest Panelists: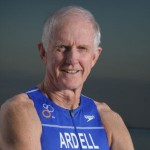 Don Ardell, PhD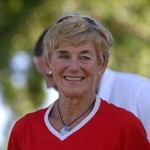 Susan Bradley-Cox
While we can't change genetics, we can promote the odds for effective adaptations that allow extended enjoyments in later life. How? By attitude adjustments based upon worthy insights, and wiser lifestyle choices made before, during and after age changes commence. Successful aging is something that should appeal to all age groups.
Not Dead Yet is a book inspired by the attitudes held and choices made by a selection of elder triathlon world champions. The eighteen women and men profiled share two salient characteristics:
The benefit of good fortune (the single most vital ingredient for successful aging); and
Lifestyle qualities known to promote successful aging.
All are currently experiencing the culminating phase of their lives, and doing so in a manner that seems worthy of note. Without exception, their lives appear to model a hopeful set of positive, optimistic expectations for what's possible.
Join the author, Don Ardell and Ironman, Susan Bradley-Cox, one of the athletes profiled in Don's book, for a webinar that explores aging and wellness as something we should all address, no matter what our age or lifestyle.
Don Ardell, PhD is an outspoken freethinker who promotes a philosophy of REAL wellness. REAL is an acronym for Reason, Exuberance, Athleticism and Liberty – the four dimensions of a philosophy and lifestyle conducive to well-being and happiness.
In presentations since 1977, Don has integrated the highlights of his 15 books and nearly 1000 Wellness Reports with three favorite topics related to current events, namely, politics, sex and religion. He also offers a REAL wellness perspective with 56 tips on thriving and flourishing while aging. His latest is entitled Not Dead Yet.
Don's presentations address principles and possibilities for finding added meaning and purpose, humor and joy amidst the challenges of weight gain/stress, political correctness, religion and obstacles to vigorous daily exercise. His focus is always on positive, enjoyable ways to live better, not the usual emphasis on reducing risks, giving up bad habits or otherwise addressing matters medical and boring.
Susan Bradley-Cox grew up in a wonderfully supportive small town, Paducah, Kentucky and attended the University of Kentucky where she practiced gymnastics. In Susan's post-college career, she coached UK Cheerleaders for 10 years, taught water aerobics and competed in tennis. She was also the director of state tennis tournaments. Susan now coaches USMS Masters Swim Team at the University of Kentucky, as well as Team-in-Training Triathletes who raise funds for Leukemia/Lymphoma research.
Susan did her first triathlon in 1982 and qualified for her first Ironman in 1986. An annual triathlon is held in Susan's name (Tri for Sight – a fund raiser for eye research at UK). Susan was named to the USA Triathlon Hall of Fame in 2010 and to Kentucky Athletic Hall of Fame in 2013. Susan's motto is: No one flourishes alone – be grateful to all for encouragement and for opening doors.
This webinar is available to members only.