We want to start this newsletter with some wonderful, uplifting, heart-warming news. Our very own Mary Imboden, HERO's Membership Manager & Research Associate, gave birth to a healthy baby boy on Sunday, March 15th. I know you share our joy and well wishes for Mary and her family during this special time. We all look forward to meeting the little guy at HEROForum20 in September!
While Mary is on maternity leave, you can contact any member of the HERO team to assist you (#teamworkmakesthedreamwork), and specific requests can be directed as follows:
Membership – Pat.Rohner@hero-health.or
Think Tank, Briefs – Ariane.Mistral@hero-health.org
Research, Scorecard, Preferred Provider License – Jessica.Grossmeier@hero-health.org
We're all in this together.
HERO's vision that all workplaces will positively impact the health and well-being of employees, families and communities is playing out in real time. Business is stepping up in a significant way to partner with public health and community organizations around the world to help meet immediate needs in the COVID-19 response, potentially saving thousands of lives. We are pleased to highlight what our HERO members are doing in public-private partnerships around the world responding to the crisis.
What is HERO doing?
Supporting telework. As you may know, HERO is a virtual team. We have home offices located in CA, MN, NC, and OR, so the guidance on telework is a step we are already equipped to handle. (Check out this short uplifting video from HBR on working from home.) We continue to monitor updates from the CDC and federal, state and local authorities as new guidance is released that applies to each of us in our individual home offices. What's new to our proven telework arrangement is the need to enable increased flexibility for employees faced with new childcare needs during a period of prolonged school closures. (HBR has a good article to help working parents prepare.) Additionally, by adding a new dynamic of social distancing to our already remote workforce, we are realizing an increased need to stay connected and are seeking ways to enhance our social connections. Video-enabled conferencing is a significant support for us. (Here's another article from HBR on virtual meetings.)
Going virtual for Think Tank. For several weeks, we've been planning a May Think Tank in Minneapolis on "Employees Bringing Their Home to Work: Should employee ZIP codes inform workplace health and well-being strategy?" Given the relevance of our May Think Tank theme to the current pandemic, we'll also be reviewing COVID-19 responses in the context of effective collaborations between public, private and community sectors in responding to the pandemic. As of March 15th, the CDC recommends cancelling or postponing events that consist of 50 people or more, and modifying events to be virtual when feasible. Furthermore, we've heard from many of you that your organizational travel policies have been modified to exclude non-essential travel. Therefore, in an effort to be as inclusive as possible, we have made the decision to conduct the May 19th members-only Think Tank in a virtual environment. With the recent addition of our Zoom technology, we will have the capacity to convene speakers and attendees in a virtual space that can also be divided into Zoom rooms for our familiar small group discussions.
Compiling examples and resources from member organizations, partners and trusted sources. We are privileged to be connected to so many organizations striving to respond, support, and generally make the world a better place. We certainly don't want to duplicate the information that is already out there, but we thought it might be helpful to compile a list of resources for you and your organization.
Apply your own oxygen mask first.
COVID-19. It's now a part of everyday life, every other news story, every other sentence, every other thought, but only if we allow it to be. It can be all-consuming if we allow it to be. It can make us feel helpless if we allow it to. Now, more than ever, self-care is critically important, nurturing our immune systems through a focus on nutrition, exercise, sleep, social connections and mental health. I'm trying to take care of myself and to follow recommendations from trusted sources. Large gatherings have been discouraged, so I worshiped from home Sunday with a live broadcast from a local church that was empty except for those leading the service. I spent time outside with my husband and canine companions. I called my mother and FaceTimed with my son and daughter. I'm washing my hands and singing the birthday song twice each time. I'm practicing social distancing and thinking of each person I meet (in the grocery store, with a 6′ space between us) as if they are my mother or father, or sister-in-law with lupus or friend with cancer. I can think of no greater expression of love for my fellow man than to do what is necessary to protect even those whom I'll never meet. All of this is important for my own physical health and others' health. It's also important as I seek daily to lead my team of rockstars and this wonderful organization of leaders. Dr. Renee Moorefield talks about the ripple effect of our actions in this good read on "8 Wellbeing Leadership Strategies for Responding to COVID-19." Food52, a virtual community organized around — you guessed it — food, holds that we "can find comfort by sharing how we're all spending our time. In this way, what we're doing separately can become what we're all doing together."
We're feeling inspired and hopeful that our collective efforts as HERO member organizations will lead the world as examples of how to be good community partners. I invite you to connect with us and share…
What is your organization doing for employees, families and communities during this time in which collaboration and partnership are critical?
How is your organization supporting employees?
How are you taking care of yourself?
What more can HERO do to help you?
Please visit our blog, it is well worth the few minutes to read about the great things our members are doing to help during this time and to get links to resources for you and your organizations. Leave comments about how you are coping and the changes your company has made during this time of crisis.
---
UPCOMING EVENTS
Employees Bringing their Home to Work: Should Employee ZIP Codes Inform Workplace Health and Well-being Strategy?
May 19, 2020 | A Virtual, Members-Only Event
The contemporary business case for employee wellness is increasingly reflective of a causal pathways model where work, health and well-being each positively or negatively interact with the other. Simply look at the health effects of unemployment or underemployment to ratify this view. At HERO Think Tanks in recent years, conversations have explored how work environments, the work itself and policies promoting healthy culture change can affect well-being. New research shows only modest growth in the past decade in the number of companies sponsoring comprehensive approaches to worksite health promotion. But of the five elements constituting a comprehensive approach, the greatest gain in the past decade is the 93% increase in those offering a "supportive social and physical environment." In this Think Tank we will consider the influence of neighbors and neighborhoods and the role of food deserts, safe streets for walking or policies limiting access to tobacco and e-cigarettes.
UPDATE: Given the relevance of our theme to the current pandemic, we'll also be reviewing COVID-19 responses in the context of effective collaborations between public, private and community sectors in responding to the pandemic. Further, we plan to combine asynchronous and synchronous approaches for a robust virtual experience. Stay tuned for more details, but hold the date of May 19th for the contemporaneous portion of the meeting.
A 20/20 Vision for Collective Well-Being
September 23-25, 2020 | Austin, Texas
Registration Opens April 1st!

A 20/20 Vision for Collective Well-being: How Group Dynamics and Social Connectedness Shape Individual Choices
At Forum20 we will examine "collective well-being" and ask how groups, organizations and our social spheres shape our destiny, fulfillment and life satisfaction. Forum20 carries forward our learnings from Forum19 where we asked how employers can better achieve well-being through collaboration, and we examined tenets of "collective action" and how individuals influence the direction of groups. To be sure, individual and group influences are bi-directional. Still, the worksite wellness movement has been steeped in behavioral psychology and has deployed education programs primarily focused on individual behavior change. This year we examine how well we are employing principles of social psychology to advance well-being and how we are shaping group dynamics to bolster our aims to become the best places to work.
HERO is a designated provider of continuing education contact hours (CECH) in health education by the National Commission for Health Education Credentialing, Inc. Provider ID# 101039
---
HERO WORKPLACE HEALTH & WELL-BEING LEADERSHIP AWARDS
Nominations are currently being accepted for the 2020 HERO Workplace Health and Well-being Awards!
For the 11th consecutive year, our industry's premier individual awards program, the HERO Workplace Health & Well-Being Awards, will recognize outstanding leadership and achievements as well as commitment to the field of workplace health and well-being (HWB). Nominations are received on a rolling basis. To be considered for an award in 2020, materials must be received by April 30, 2020.
We are accepting nominations for: The Bill Whitmer Leadership Award, The Mark Dundon Research Award, The Jerry Noyce Executive Health Champion Award, and The Heart of HERO Award.
Check out the video interview with last year's Mark Dundon Research Award winner, Debra Lerner.
Please visit the HERO website to learn more and access the appropriate nomination forms. To hear more from our 2019 HERO Award winners, check out their personal interviews on HERO's YouTube channel! Questions? Email Emily.wolfe@hero-health.org.
---
HERO RESEARCH & SCORECARD
HERO Health & Well-Being Best Practices Scorecard in Collaboration with Mercer©
HERO Scorecard featured in special issue on industry scorecards
The HERO Scorecard is one of four of the most widely used workplace health scorecards featured in a March 2020 edition of The Art of Health Promotion. The special issue describes the top scorecards, their development, use, similarity, and differences. It also provides guidance to help organizations find the best tool to fit their needs.
HERO Scorecard research findings gain national attention
Previous issues of HERO Briefs have shared news about publication of HERO research in peer-reviewed journals, and we're excited to see interest from industry trade publications on the findings. Benefits Specialist Magazine featured the findings of the study in its March 2020 issue. We've also developed an Infographic to support sharing the findings with a lay audience.
---
HERO RECOMMENDS
Resources and Readings
Rigorous workplace wellness study demonstrates effectiveness of a comprehensive approach
A new study published in JAMA Cardiology demonstrated that a comprehensive approach combining health education, supportive policies, and a supportive built environment resulted in improved blood pressure control and related outcomes among workers in China. The use of a cluster randomized clinical trial design to rigorously test the multicomponent intervention in 60 workplaces sets this study apart from the majority of wellness studies relying on a traditional quasi-experimental approach. For more information on implications and application of study findings, see the MEDPAGE article, which includes insights from Dr. Ron Goetzel.
March is National Nutrition Month
March is National Nutrition Month, including Obesity Care Week and World Obesity Day. Brought to you by the Academy of Nutrition and Dietetics.
New commentary on latest University of Illinois workplace wellness study
Last year a study was published from the ongoing evaluation of the University of Illinois Wellness Program, and based on their lack of results researchers concluded that wellness programs are ineffective. HERO member, Dr. Ron Goetzel wrote a commentary on the findings, which is published in the American Journal of Health Promotion Online First.
University of Michigan study links wellness program nonparticipation and employee turnover
A University of Michigan study links 3 levels of participation in wellness programs with lower odds of turnover compared to nonparticipants. It also found significant relationships between socioeconomic and demographic characteristics and turnover. The study was co-authored by HERO members, Dr. Kristi Rahrig Jenkins and Dr. Bruce Sherman, and is published in the American Journal of Health Promotion Online First.
---
MEMBER PROFILE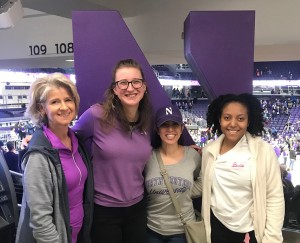 Evelyn Cordero
Well-Being Specialist
Office of Human Resources
Northwestern University
Evelyn Cordero is a native Chicagoan and a well-being specialist in the Office of Human Resources at Northwestern University. She joined Northwestern in 2014 as a research assistant in the Department of Medical Social Sciences, Feinberg School of Medicine and, shortly after, received her MS in health communication from Northwestern. She holds a BA in community health & wellness from Northeastern Illinois University and an AAS in dietetics from Harper College. A favored go-to wellness practice is deep breathing.
To read more about Evelyn, visit the HERO Blog.